The Rise of Talent
The repercussions of the Great Resignation created a long-lasting global talent crisis. Organizations must adapt and adjust strategies to succeed in attracting and retaining top talent. At the SHRM Talent Conference & Expo 2023, you'll gain new tools, research and processes to thrive in this uber-competitive market. Join fellow talent professionals as we update practices, re-shape the future of talent management and build better workplaces for all.
A NEW APPROACH TO HEALTHY RELATIONSHIPS
Why Should You Attend Talent 2023?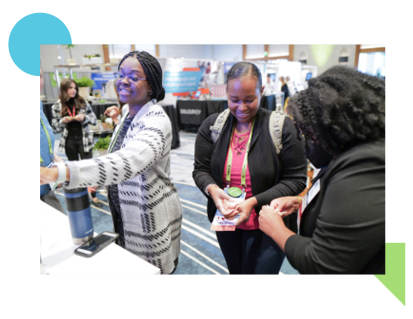 During this conference, you will have numerous opportunities to connect with the brightest minds in recruiting and talent management and learn how to reach untapped or underleveraged talent pools while retaining your high performers.
Actionable Learning
From practical recruiting and effective onboarding to engagement during the full employee lifecycle, you'll find solutions you can apply in your daily work.
MEANINGFUL CONNECTIONS
You'll form connections with your peers that will live on well past the end of the conference.
DATA-DRIVEN STRATEGIES
Data speaks—let experts share what top trends in recruiting mean for the future of talent management.
BOOST YOUR BOTTOM LINE
Meet leading providers with cutting-edge solutions to help achieve your business goals.
Content Tracks
Dive into sessions and hear aspiring speakers across 7 content tracks
Find creative and innovative ways to engage and retain top talent while driving performance.
Get new tools for expanding the talent pool and attracting the right candidates.
HR & Talent Acquisition Strategic Planning
Take a deep dive into the importance, and business impact, of workforce planning and talent management.
Gain actionable insights to strengthen the talent selection process and help your organization succeed.
Technology & Data Analytics
Discover how technology trends like data integrity and artificial intelligence are impacting the world of talent.
Diversity, Equity & Inclusion
Learn best practices for creating an inclusive, diverse and equitable workforce where everyone can thrive.
Level up your leadership skills and learn the latest on employee growth.
Get the latest news and updates on all things SHRM Talent Conference & Expo 2023.
By submitting this form, you are agreeing to receive communications from SHRM about this product and other related products and services. You can unsubscribe at any time by clicking 'Unsubscribe' at the bottom of any email you receive.
By submitting this form you are acknowledging that you have read and agree to the SHRM Privacy Policy and Terms of Use.
Designed specifically for recruitment and talent management professionals, the 2018 SHRM Talent Conference & Exposition gives you the tools, resources, innovations and solutions you need to evolve your human capital strategies. This fastpaced, energetic conference provides ideas that will advance you personally and professionally, while boosting your talent management strategies.
More than a thousand of your peers will join us in Las Vegas, NV April 16-18, 2018—this is an excellent opportunity to make new connections, network with old friends and expand your list of contacts.
The Talent Conference & Exposition offers 14 PDCs towards SHRM-CP and SHRM-SCP credentials.
Reasons to Attend:
New Solutions & Best Practices. Our comprehensive program will provide you the tools, resources and innovative solutions you need to take your human capital strategies to the next level.
Learn from the Experts. With a combination of industry thought leaders and HR practitioners, you will learn from the best in the industry. You will be inspired, and learn real-world solutions you can apply to your own organization immediately.
Networking. Join more than 1,000 of your talent management peers who are facing similar challenges as you. You'll walk away with new contacts and an expanded network of peers with whom you can collaborate and share best practices.
Stay Current & Competitive. Talent is key to the success of any organization. Learn today's most innovative practices and solutions from our speakers, attendees and exhibitors.
Transform Your Organization. This isn't just about you! Share what you learn with your entire team. By putting these new solutions into practice you'll have a strategy in place for hiring, engaging and retaining today's top talent—a key advantage.
Topics Covered:
Legislative & Compliance
Onboarding Techniques
Recruiting & Talent Acquisition/Management Strategies
Engagement & Retention
Metrics & Analytics
Social Recruiting & Technology
Leadership & Skill
Who Should Attend:
Recruiters who want to get better at their jobs by increasing their knowledge in employment compliance, social recruiting and technology, onboarding techniques, and engagement strategies.
Talent management professionals who need to develop or sustain comprehensive strategies for their organizations.
HR managers and generalists who are responsible for recruiting, retaining, training and engaging employees.
Recruiters who want to grow their networks and influence in the talent management and HR industry.