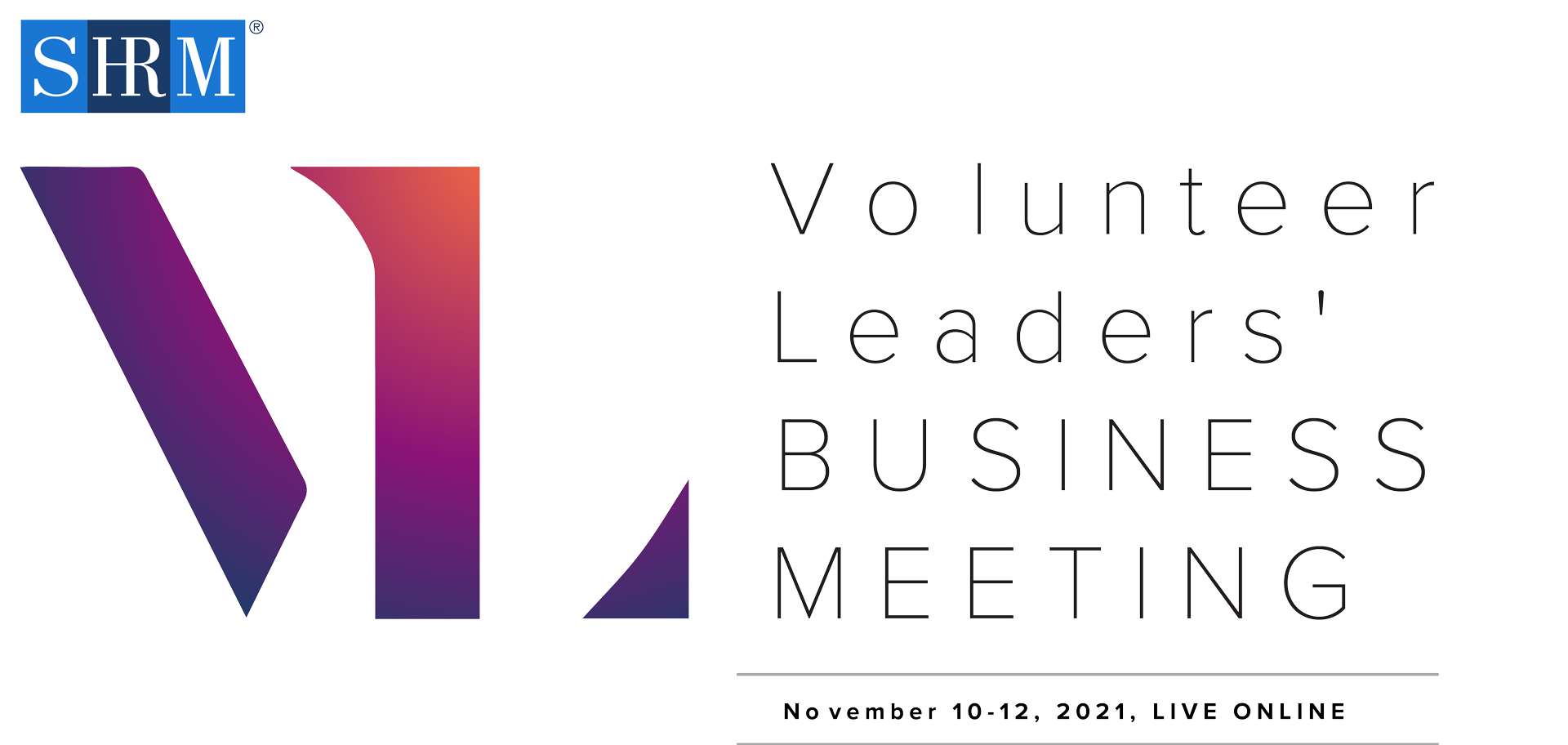 YOU ARE INVITED TO THE
VOLUNTEER LEADERS' BUSINESS MEETING 2021
As a SHRM Volunteer Leader, you are among the most dedicated and passionate SHRM members. You are the backbone of our mission and contribute greatly to our overall success. Thanks to your work day in and day out to uphold SHRM's vision, purpose and values, together, we are elevating HR.
Join us for an invitation-only business meeting with your fellow Volunteer Leaders. This exclusive event, the Volunteer Leaders' Business Meeting (VLBM) 2021, is happening November 10-12, 2021. Now more than ever, we must partner, adapt and lead the HR profession.
PARTNER
Navigating business goals during the global pandemic has not been easy for anyone, but we are all in this together. Connect with fellow Volunteer Leaders to be the first to know about SHRM's 2022 business goals to be better positioned to partner with SHRM and each other in the year to come.
ADAPT
Connect with other Volunteer Leaders from coast to coast to celebrate shared successes, discuss challenges and opportunities, and learn together as we continue to collectively advance diverse, equitable and inclusive workplaces. During this gathering of minds, we will strategize on solutions to today's pressing issues while mapping the future of the new world of work.
LEAD
Gain a deeper understanding of what it takes to create a lasting impact in your position and help lead work, workers and the workplace forward. You will end the week feeling energized and motivated for the possibilities in the year ahead.
Who's Invited to attend
In recognition of your commitment and accomplishments, all chapter and state council volunteer leader positions are invited to attend our virtual event. We will celebrate you and provide training to help you prepare for your new role in 2022.
Virtual Registration closes October 30.
Volunteer Leaders who previously registered for the in-person event do not need to register for the virtual event.
Complimentary registration is tied to specific volunteer roles. For more information, please visit the registration page.
Get the latest news and updates on all things VLBM.
By submitting this form, you are agreeing to receive communications from SHRM about this product and other related products and services. You can unsubscribe at any time by clicking 'Unsubscribe' at the bottom of any email you receive.
By submitting this form you are acknowledging that you have read and agree to the SHRM Privacy Policy and Terms of Use.